What are FIBC Bag?
FIBC Bag, also known as Bulk or Jumbo. Is an economical and ideal packing used for the storage & transportation of powdered, granulated or bulk products.
They are reusable and highly reliable, provide ideal method of transport some materials in bulk and very easy to load and unload as per requirements.
Currently, there are a large number of industries that are using bulk bags for specific reasons:
Petrochemical and chemical products
Food products (e.g. sugar, flour, spices, wheat, milk powder)
Construction products (e.g. cement, granite, sand)
Agricultural and related products (e.g. fertilizers, animal feed, grass).
Industrial applications (e.g. scrap materials, copper coils & slag, sludge waste)
Wood industries (e.g. firewood, lumber, planks)
More applications and industries being added …
Guides
Safety Considerations
Bulk bags can be used in many ways for such purposes. Being an ideal solution for transporting dry bulk goods.
However, while they offer great for users, its increased usage has brought along a new safety issue.
Furthermore, due to the significant weight of the bags' contents, an incident can bring about dire consequences.
Easy Transportation
Previously, businesses use dump trucks to deliver their bulk and flowable substances, without any proper storage system.
Often times, other substances from the environment may contaminate the product due to the absence of proper packaging.
Improved Safety
The manual handling of bulk material in bags and drums combined with the discharging of material into process equipment can expose workers to injuries.
Bulk bags require mechanical means to move the container, which means less manual movement by workers.
Cost Savings
The labor cost per container is typically reduced when bulk bags are used.
Lifting, opening, dumping, and disposal of forty, paper bags cost more than the positioning and lifting one bulk bag in most cases.
Economical Packaging
As bag capacity increases, tare weight as a percentage of material weight decreases.
Properly sized bulk bags can be positioned and stacked higher and more efficiently than smaller bags, maximizing shipping container usage and storage facility space.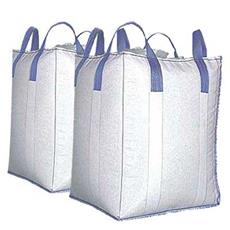 Interested?
Do visit our website and contact us!
Address: 24 Tuas Ave 8, Singapore 639239