Jumbo Bags
Jumbo Bags, which can also be refer as flexible intermediate bulk container (FIBC), bulk bag or big bag are industrial-grade containers that are usually seen in construction settings.
They are compose with flexible fabric to store or transport products such as:
Grains
Fertilizers
Chemicals
Hazardous Waste Material
Plastics
Salt
Seed
Flyash
Refractories
Food Products
As well as construction materials such as:
Jumbo Bags are specially design to store and transport dry and flow-able products, such as the ones that we list above.
The material used to produce FIBC are often coarse woven polyethylene or polypropylene. Jumbo Bags are made 114 to 122 centimeter in length and in between 100 to 200 centimeter in height.
A typical Bulk Bag, as its name suggests, can contain up to 1,000 kilograms of products and larger ones can store even more.
Some of the FIBC possess electrostatic properties and is categorized into four types.
No special electrostatic properties (Type A)
Exhibits a breakdown voltage of 4 kilovolts or less. (Type B)
Conductive FIBC (Type C)
Anti-static FIBCs (Type D)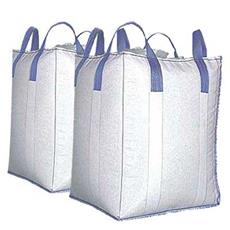 Since the 1940s, bulk bags has been in use for multiple packaging purposes. Jumbo bag has also been use to build temporary walls during the 2011 Thailand floods.
If you are specialize in construction or an industry that requires Jumbo Bag, consider Rockwell. We implement strict requirements with our supplier in China and and provide premium and durable FIBC. We ensure that our products meets the industry standard. Therefore, we assure you that you will receive the top-quality and durable products from us.
Rockwell
If you have an ongoing project or require Bulk Bag for whatever purposes, you may click here to view the jumbo bags we supply.
Please do not hesitate to contact us for any inquiry you may have regarding our products or services.