Facts you need to know about Jumbo Bags
What are jumbo bags?
Jumbo bags, also known as a flexible intermediate bulk container (FIBC) is an industrial container made out of flexible fabric. They are mainly used to carry dry, grainy particles such as sand, soil, and pounce of plastics. Moreover, Jumbo bags are also able to be used as transportation of bulk food and pharmaceutical items. The range of jumbo bags market is split into a regular bag, anti-static bag, conductive bag, dissipative bag and UN certified bag (UN bags are certified bags capable of carrying hazardous products.)
What are they made up?
There are two types of materials that make the jumbo bags. Polypropylene, which is a petroleum-based product and woven polypropylene which is made from extruded polypropylene resin pellets.
How much can a jumbo bag contain?
The standard jumbo bag ranges from 80cm – 90cm in height and 75cm – 85cm in width. The jumbo bags can hold to an approximately 700kg-1000kg worth of product and hence are quite big and heavy.
How do you empty the jumbo bags?
There is a spout at the bottom which is usually attached to the jumbo bag known as a discharge spout. The spout is tucked inside the closure on the bottom of the bag to protect the spout and prevent any product from leaking out of the jumbo bag before its intended discharge.
Why should you use a jumbo bag?
Static electricity control
A person who uses the Jumbo bags certainly does not have to worry about static electricity control. It when there is an imbalance of electric charges in certain materials. When the Jumbo Bags are being filled up or discharged, the flow of finely powdered substances can lead to static electricity build up. It is crucial to get rid of the electric charge when it comes to the packaging and transporting of flammable materials. Hence, the right type of jumbo bag will avoid such problems.
Cost saving
Jumbo bags are also good to save time and money on transportation of products. Thanks to its different lifting structures of the bag, secondary packaging is not required. Storing these bags are simple as an empty jumbo bag takes up very little space.
Used as a marketing ad
Companies can print their labels on the bag and use them as mobile billboards. These bags have more than enough space to put on essential information on its company.
Minimize waste flow
Jumbo bag is relatively easy to recycle and can generate rebates under the right conditions.
Is it possible to have them custom made?
It can customized to your manufacturing process to that of your requirement.
What types of jumbo bag are there?
Jumbo bag come in many shapes with different types of sleeves on them. Each type of sleeves caters to the several lifting options for the jumbo bags. The types of jumbo bags are as follow:
4 corner belt
Cross corner
Hanging bag with closed bottom
Belt around the bottom
Tubular + rope
Rope style
1 loop
Cross belt around the bottom
4 corner belt + stevedore
4 corner to the bottom
Tubular 2 loop
2 loop
Now you know all the capabilities that a jumbo bag can offer, in Rockwell Engineering and Equipments, we are able to provide a range of jumbo bags for you!
Bag 1
Size 85*85*75cm
800-830kg/pc
Volume: 541,875cm³
Bag 2
Size 80*80*70cm
740-760kg/pc
Bag 3
85*85*80cm
830-850kg/pc
578,000cm³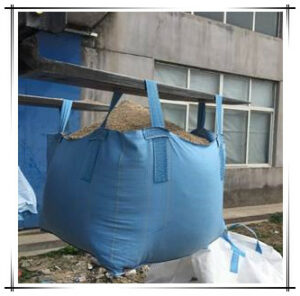 Or if you need to, Contact your jumbo bag experts in Singapore now!
If you have any further enquires or needs assistance with choosing the suitable jumbo bag, welcome to contact us!
Rockwell Engineering and Equipment Pte Ltd
Tel: +65-6464 9347
Tel: +65-9673 6302
Address: