What are Cotton Gloves Used For?
The cotton glove can be used for a lot of jobs. In a lot of cases, these gloves are neglected for other, more expensive materials.
What is Cotton Glove made of?
Textile mills process the raw cotton into a yarn or a fabric. Cotton gloves can be made from either option, which is considered the best alternative to the current one and then the others are not that easy to be processed and made.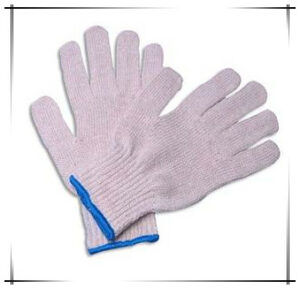 The different type of Cotton gloves
Cotton Gloves for Heat Resistance
Cotton is an insulating fibre that has excellent resistance to heat degradation. It begins to turn yellow after several hours at 250°F (120°C) and will noticeably degrade at temperatures around 450°F (232°C).
Biodegradability of Cotton Work Gloves
Cotton are a product in labour and the company is going through the line means it degrade on its own, takes as litter as one month for it to start.
Can Cotton Work Gloves Be Washed and reuse again?
The answer is yes. Cotton is the easiest to wash in gloves and clean up with the detergents is the best way to go and be able to work with cotton.
How to Wash Cotton Glove:
Use warm water (105°F/40°C)
Wash with regular detergent, can be bleached
Tumble dry on low or no heat
The Perfect Industries to use Cotton Gloves:
The cotton gloves are easy to wash fibre which it is inexpensive to buy home. Food Industry is the most common to see cotton gloves because can be easily washed and bleach that could be used for long-term use.
Because cotton can easily be washed and bleach can be used
Where to get it?
At Rockwell Engineering and Equipment, we deal with equipment day to day that requires hand protection. Our client company is in the same category as using the cotton gloves on the sites.