What are cotton glove used for?
Cotton glove can actually be used for a lot of jobs, construction workers mostly are the ones using these cotton gloves on their construction site in order to prevent themselves from getting hurt.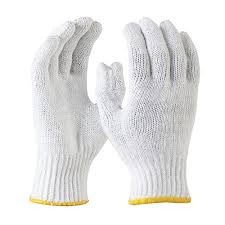 What are cotton gloves made of?
Cotton gloves are very comfortable, cool and absorbent. They won't leave any traces of scratches or fingerprints. These cotton gloves also have good abrasion resistance.
How are cotton gloves made?
Cotton gloves can usually be made from either knitting or cut-and-sewn.
The cut-and-sewn gloves uses knitted fabric materials that is cut and then sewn together using a sewing machine. The Cut-and-sewn method is easier to produce than knitted gloves as it doesn't require highly technical machines.
However, there are 3 disadvantages to cut-and-sewn gloves:
They generate a lot of waste fabric
They are labor intensive
The stitching result is bulky seams
The seamless knit cotton gloves uses yarn that is knitted by industrial machines. The advantages about these seamless gloves is :
There are no seams which makes the gloves more comfortable-wearing.
Longer durability and can be washed
Lesser prone to tearing
They conforms better to your hand
Heat resistance
Cotton gloves have insulating fibres that has excellence heat resistance, cotton and flame resistance. Natural cotton should not be used around open flame or spark because cotton burns readily and quickly.
Can cotton gloves be washed?
Cotton is one of the easiest fibers to wash. Although it absorbs water during the washing process which causes it to swell, cotton will return to its natural size when it is drying up.
Cotton is one of the fewer fibres in the world that increases tenacity when wet, this means that you should not be scared of putting the cotton gloves into washing machine's with heavy load.
To get a pair of cotton glove for youself, click here.