Bulk bag
A Bulk Bag or FIBC is a large bulk storage bag. It is made up of flexible canvas.
Equally, optimize the costs when emptying, compare to other more rigid and heavy containers.
Bulk Bag are widely used all from over the world for their economy and also for a very large number of applications.
How does it work was to get better from the progress of the current build with good quality and inspection.
Benefits
Traditionally, bulk bags were made up of rubber, but they are fabricated from a woven fabric.
Hence, sometimes referred to as PP bags. A woven fabric is resistant to mildew.
It also has resistance to heat, shrinkage, and stretching.
Besides that, Woven materials are stronger and more durable than non – fabrics because the layers are woven over and under each other.
There is also a PVC variant. Identically, designing a product that is require protection from the surroundings.
Although they are more expensive, the PVC version has a life more than three years and can be repaired.
The strength of durability and reliability of bulk bags make them a friendly choice for carrying materials.
Materials such as Sand, gravel , pallets and more.
Some companies provide cleaning services—covering collection, inspection, and cleaning.
Reuse of bulk bags encourages maintained a certain level and a circular economy, as reusing bags reduces waste and dependency on raw materials.
The types of bags that are suitable for recycling include those used to store chemicals, plastics and more.
Bags for recycling are classified by different grades:
Grade A (clean, bright white; colored stitching and handles allowed)
Grade B (not as clean, predominantly white with minimal coloring)
Grade C (dirty or colored bags)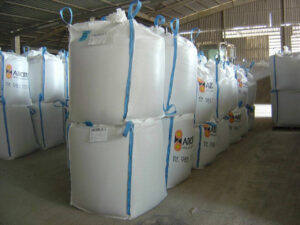 Interested?
Do visit us here for more information
Address: 24 Tuas Ave 8, Singapore 639239