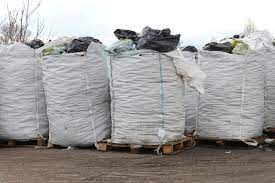 Do you know the types of bulk bags that you can use? Which one do you prefer?
We used bags to carry stuff, like groceries and newspapers. But that's not what I'm talking about here.
I talking about bulk bags another term for the word Jumbo bags. It serves the same function as Jumbo bags, which you can use to store materials and sand. You can also transport these bags after they have filled up fully.
What would construction companies do most often for bulk bags is to purchase as many bulk bags as they need when it comes to construction projects. They might need it when it comes to digging using an excavator during excavation. They check for reliable information about the bulk bag and its uses. Even look for companies to get one.
One more important thing that they would do when they find their suppliers, would be to look at what types of bulk bags they offer. Including what materials they're made of, and the quality in terms of their condition. This also means that they need to also ensure that it has wear and tear resistance. To make sure the bag doesn't get torn easily when we used it.
If you aren't sure what are the names of the different bulk bags. You should read it on western packaging's website.
They have talked and explained the 5 types of bulk bags that you can decide which one to use.
They are called circular woven bags, four-panel bags, conical bags, form stable bags, and u-panel bags. Their website has provided relevant information on the 5 types of bulk bags and how it is beneficial.
For you, now that you know the different bulk bags. I hope that this information was useful to you.
Here is our website.