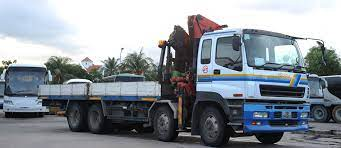 Do we have companies providing transportation services? Do we need it?
Can you figure out how you are going to transport all excavators, big and mini to your construction site? Depending on the size, this will take time to process as you need transportation services to help you transport your excavators.
But first, you need to know how many transportations you need to shift a few excavators to the construction site. Plus you also don't have to worry about mini excavators as they are small in size.
So you just only need one transportation a few mini excavators. But for big excavators, you need to rent big vehicles.
If you're looking for companies providing transportation services. But you don't know where to find it online. In my opinion, there are many transportation services to choose from online. Out of all of the transportation services, there are two that I would recommend to you to go and look at their website. Their company website is Hiap Seng Group Companies.
Their company is about doing building construction, and pilling works and they also provide transportation services. Not only that they also provide excellent service in their work as well.
For vehicles, this is the most suitable as they also transport excavators as well as part of their service.
They have a lorry crane, trailers, and trucks for you to transport your excavators.
Other than the one I introduce, the other company which provides the same transportation service. You can also go to the Rockwell website where they offer the rental of excavators and have lorries as part of their transportation services. You can accept their service if you need to transport a mini excavator for construction only.
Now that you know both. Take your time to select one from both. Here is our website