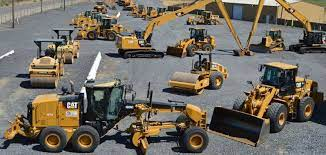 What are the other construction machines? Why do they need it?
Instead of getting an excavator for construction. Can't you just get different construction machines? There are many types of it with different purposes and have functions of their own.
If you don't know what are the names of different types of construction machines. Go read from this website called thebalancesmallbusiness. They talk about different construction machines.
Other than talking about excavators as part of earth moving machines. Here are the 8 types of earth moving equipment you can use during construction.
On how an excavator works, do you know how to run it or use one?
I'm sure you've heard about it before. You've seen it up close once during outside you're HDB or when travelling to other places while on the road. We can just find out for ourselves what they are by doing researching online .
On Wikipedia or borrow a library book containing information about it and its function.
But do you know how to operate by yourself, when it comes to using it during your work. I'm sure you got so many questions on this topic like what is the schematics of the excavator.
How do you turn it on when using it and also how to refill the fuel of the excavator to regain power?
For my opinion when it comes to finding a solution and your a beginner who doesn't want to read books. I suggest that you should go check out this website called National Plant and Equipment.
This company started during in the 1987 and they specialize in earthmoving equipment that can be use for mining an other construction related jobs.
This is what they wrote about how an excavators works and how to use it.
For fuel to power the excavator, its main source is diesel. Diesel are a type of liquid fuel which the excavator needs it as a power source other than petroleum which is only for transportation like cars, buses and motorcycle.
They stated about the steering wheel and lever on how to drive the digging excavator. Which you need to know about, how to move forward and backward when using it. Other parts of it explained like the arm of the excavator, talks about the different components including the bucket.
Even talking about tracks as well. If you want to rent one, you can also go to the Rockwell website.
The first is backhoe loaders, they have a similar design to the farm trackers. They come with two buckets one from the front and one back. They are medium-sized earth moving machines that can do small jobs.
The second is the bulldozer the strongest heavy equipment vehicle, which has a wide flatbed facing the front that helps to push the earth's poles.
The third is skid steer loaders which are the most adaptable vehicles. Even though they are small and nimble, they are useful to drive on snow and mud.
Fourth is motor graders, they are another heavy equipment vehicle. Their function would be to remove small amounts of dirt.
Fifth is Crawl loaders which are a mixed-up of 3 earth moving equipment, like the excavator, backhoe, and even bucket loader.
Sixth the trenchers are used for digging trenches. They come in many different shapes and sizes from small to huge trenches.
Seventh are scrapers, created for open areas. Which allows them to run at high speed for fill operations and cut.
Eight common dump trucks. Used for every construction-related job. They carry and bring the material.
Now that you understand the other types of construction machines, you can learn what are their purposes. You can go to our website.