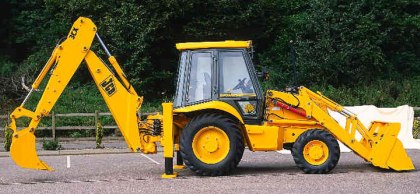 Do you Backhoe loader. Sure you might not know what is it for.
But before we proceed to it. You've all already know what an excavator is and what it does to help in construction. Construction workers have used it for a construction sites. You all know what are its functions and including the different components like the wheels and the arm.
Workers would also have to operate it and use it when driving it on the site. Other than that there is more than one construction vehicle other than an excavator. They can be used for different purposes land can complete any heavy work given. There is one particular construction vehicle, I would like to introduce. It is called Backhoe Loader. If you don't know what that is?
I suggest that you go and read it on Civil Engineering Portal's website. They explained the details of the Backhoe loader. But what is it you asked? Well, it is a type of excavator vehicle, which consists of different components. Such as a tractor, front shovel, and a small backhoe in the rear end. Even though their small and versatile, they can still do excavation types of works as well as small construction projects.
Even though you looked at the picture and see what it looks like. If you think that it is a tractor like the ones on the farm. You are mistaken as they are not similar and they are different from one another. If you don't know why they're different. You have to look at both photos to compare them with one another to understand better on what is their difference between their function and purpose.
Other than that, they can be used to complete tasks like transportation of materials or equipment, digging, and excavation.
Here's our website.