Excavator Rental Singapore
At Rockwell, we provide excavator rental Singapore for all your excavation works. In this article, we will share about guides on how to rent.
To prevent site accidents from occurring, the site manager should conduct a basic inspection on the excavator.
This includes checking all safety devices.
Any missing devices such as horns, light, fire extinguisher, wipers should be replaced immediately.
This is to ensure that all devices are in good working condition before excavation work.
A quick check on all control levers to make sure that they are functioning.
Excavator operator needs to be well-train and certified to operate the machine. Workers who are not skilled to operate are not allowed to sit on the operator's seat.
Operator needs to have seat belt on at all times to keep him in place. In addition, to maintain full control of the vehicle.
In addition, Operator is to abide by the speed limit and manoeuvre the excavator at the specified rate.
Furthermore, the operator is to reduce the speed when on rough terrains.
This is to prevent the chances of skidding or vehicle overturn. Carry bucket low to the ground when transporting to ensure visibility and stability.
Ensure that the bucket is lowered to the ground when the excavator is not in use.
To cool down the turbocharger, switch the engine to half throttle for a few minutes before completely shutting it off. Lock cab after exiting the excavator.
Pros of owning Excavators
Owning excavators for renting could profit for the long term, but it may cost a large amount before starting the business.
They also offer the professional operator to those contractors that do not have trained workers.
For those excavators needs to be maintained and cleaned after using needs manpower to do it, but if the machine is damaged it needs time to transport to manufacture for repair.
This will cost the owner a sum of money for sending for repair, hence the machine must be well managed.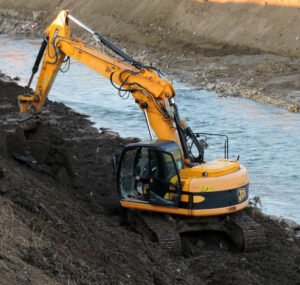 Interested?
Feel free to contact us!
Our Website: https://rockwell.sg/
Address: 24 Tuas Ave 8, Singapore 639239