About Excavator Rental
An excavator rental can be rent from a company, also called a digger, is a piece of heavy construction equipment.
Equipped with a boom, a dipper or stick, and a bucket and cab on a rotating platform called the house.
The arm is connected to an elbow that holds and controls the excavator bucket. The house sits on top of an undercarriage or frame with crawler tracks or wheels.
Together with most models can rotate 360 degrees, and you can replace the excavator bucket with several different attachments.
A hydraulic excavator uses hydraulic fluid, hydraulic cylinders, and motors. Cable-operated excavators use winches and steel ropes to make the same movements.
Types of Excavators
There are different types of excavators available:
Dragline
Long reach
Skid steer
Power shovels
Steam shovels
Suction
Excavators are usually specified by dig depth, arm force, dump height, maximum height, and engine power rating. Likewise, all attachments are available, including breakers, grapples, augers, and several types of buckets.
Similarly, thumbs or thumb attachments can grab and move sections of pipe and other heavy objects.
Skid Steer Excavators
Skid steer have booms and buckets that face away from drivers. They can reach over the cab instead of reaching around.
This useful in all areas without lots of space. Not only that, it can turn 360 degrees without moving forward or backward.
Suction Excavators
A suction known as vacuum excavator produces powerful suction through a pipe that's up to a foot wide. This makes the air travel up to 220 mph.
The suction nozzle usually has two handles for the operator.
Equally, the handles on a collar that can rotate to uncover suction-release openings with grilles over them.
Opening the grilles releases the suction. However, making the nozzle drop anything it picks up that's too big to go through the tube.
The end of the tube or pipe is often serrated for cutting earth easily. As well as soil is often to loosened first with a powerful water jet.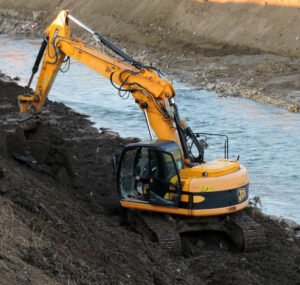 Interested?
Feel free to contact us!
Website: https://rockwell.sg/
Address: 24 Tuas Ave 8, Singapore 639239