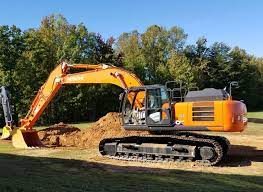 Why do you need an excavator, what is the purpose of using it?
You might have seen it outside of your house sometime during construction by construction workers or in other places. But did you consider the possibility of why we need to use them for what purpose?
I would be advising about why excavators are important to the construction industry and what they serve a purpose.
Introduction of Excavators
Excavators are huge heavy equipment or another term for it would be earth-moving vehicles.
Its function is to carry heavy objects which we humans are not able to do it. Do you need an excavator now? Yes as it can help you to reduce the amount of time when it comes to difficult tasks or assignments. If you are planning a small or huge construction project based on architecture, then you need one of these.
Excavators can be used for various types of jobs like digging soil from the ground, carrying heavy equipment, removing waste, and using it for mining as well.
For Excavators, there are a variety of models and different functions and uses for each one of them.
Examples of 7 types of Excavators are crawler, wheeled, dragline, suction, skid steer, suction, long reach, and mini excavators.
Rather than saying all of what they can do and other features, you also have to rent them if you need them for a specific purpose. If you are tired of trying to search a lot of Rental company websites. I strongly recommend that you go to the Rockwell website as they have a variety of excavators.
Rockwell has a variety of selections you can choose from depending on if they have it.
If you are curious and decide to rent one from Rockwell, here is their website if you want to know more information or have any questions you want to ask them.