What are cotton gloves
Cotton Gloves are Known for Keeping hands clean as well as protecting our against abrasion but they might not be strong enough to handle work with rough and sharp materials.
Cotton gloves can be used for alot of jobs. In alot of cases, these gloves are neglected for other more expensive material.
They're comfortable, cool, absorbent. They won't leave scratches or fingerprints, are naturally biodegradeable, will not melt to your hand, and have good abrasion resistance.
On top of that, they're inexpensive compared to 'advanced' fiber options.
How Are Cotton Gloves Made?
Textile mills process the raw cotton into a yarn or a fabric. Cotton work gloves can be made from either option, which are called knitted or cut-and-sewn, respectively.
There are three disadvantages to cut-and-sewn cotton work gloves:
Generates a lot of wasted fabric
It is labor intensive
The stitching results in bulky seams
Where To Buy Cotton Work Gloves:
Realistically, you can buy cotton work gloves anywhere. A local hardware store, a gas station or Amazon will all carry similar styles.
But the quality of your work gloves will differ depending on where they're purchased.
Have you ever noticed that the webbing between your pinky and ring finger is lower than the webbing between your other fingers?
We did.
So we created a sewing process called THT®, or True Hand Technology. This patented process allows us to better conform our gloves to the shape of your hands for a better fit and longer lifespan.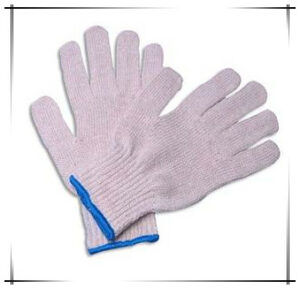 How to Wash Cotton Gloves:
Step One:Use warm water (105°F/40°C)
Step Two:Wash with regular detergent, can be bleached
Step Three:Tumble dry on low or no heat
Be warned: Your gloves will most likely shrink on high heat settings