Understanding of cotton gloves supplier.
Cotton gloves supplier in Singapore has been one of the essential equipment for the construction industry, and many companies have been using it.
Been a cotton gloves supplier the most crucial thing is reputations and wearability of the glove, we have been in the industry for years, and we also do projects for the houses that the equipment we use our unit.
As a cotton gloves supplier, we provide the best quality to the clients, and the price of the product is reasonable to the quality.
Within the industry the company will provide guidance on how to use it and the price does not show the actual quality, with cheaper pricing from other competitors our pricing gives average but the quality is our priority to our customer.
Why do we care?
As most of our cotton gloves are supply to the construction sites, the workers on site are using the gloves to carry heavy objects or pushing.
Our gloves are durable to protect those workers on the site to ensure the safety of their hand. This provides our client's site workers do not get injured, and they don't need to be worried about.
Currently, we use the cotton glove ourselves on different site projects, cutting of cost and gaining a safety.
Testing of cotton gloves
As a cotton gloves supplier we know that each item has to be tested in GSM, the higher the gsm, the more substantial of the cotton.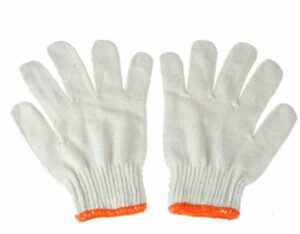 The cotton glove has two different gsm:
700 gsm as a standard work glove standard that is commonly used in the industry
750 gsm a higher standard of work glove is thicker and heavier, this could provide better protection in excellent durability.
Each kind of cotton gloves does not define that the client wants the best, but choose the right one for the application.