Description of Cotton Gloves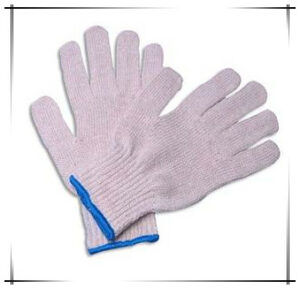 Cotton Gloves are cheap and reliable in Singapore due to the natural material used for making it. The gloves have long last durability and protection for the hand from scratch.
The cotton glove has been demand and improves to meet the demand of user.
Such as protection, waterproof, cut resistance, keeping warm, each application has been using on different industry.
They cotton work gloves used in the construction industry are also called Cotton gloves.
Without changing its name, the cotton glove had a different type similar to durability but counted as GSM.
Types of GSM for cotton Gloves
300 – 400 Softer and thinner but takes shortest time to dry
If you are afraid of getting your hand dirty from doing picking job, you might consider using gloves which is below or under this GSM.
In addition, this will prevent yourself from getting a scratch by the carton.
400 – 600 heavier and thicker but takes longer time to dry
Gloves itself has sufficient layer to protect you from getting hurt if you are handling with rough surface object like sands or wood log.
As time goes by, your hand might have a peel full skin which in turn would look more unpleasant and painful.
If you are responsible to help remove those plates from the coffee shop, we recommend you to use gloves under this GSM to protect your hand from getting dirty.
600 – 900 immensely heavier and thicker but takes more longer time to dry
This can be used to cut off durian as the skin itself contains sharp object.
It would be good to use gloves when you are handling glasses to prevent it from slipping.
In addition, if there is sharp object at the glasses as it has a thicker layer to protect.
Interested?
If you are intending to buy cotton gloves, you can click here to visit our website to you can click here to contact us and we will provide our service!
Please do visit our website for more information.