Excavator Safety Guidelines
Here are some of the safety excavator guidelines that you have to note when u are working at a construction site.
The workers should be aware of all these informations as it requires and protects their safety as well as prevent them from any injuries. It can be very dangerous if we fall off or get injured as it might loose a life so stay alert when u are operating an excavator and take precautions with your own safety when u are operating it as well as when it is your first time operating it.
Seat belts are provided for comfort and security.
Before going to work, be sure the mirrors are clean and set properly.
Make a quick check of the controls. Be sure the control levers are operating properly.
Check the propel system. It's better to do this before operating so you can prevent accidents on the job.
Call the area's utility services to have the job site marked for underground lines or structures.
Never permit riders in the bucket, cab, or anywhere else on the machine. Excavators only have one seat, which is meant for the operator.
Never attempt to operate the excavator unless you are sitting in the seat and in full control.
Reduce the excavator's speed when working on rough terrain or within congested areas.
Carry the bucket low to the ground during transport. This will increase visibility and machine stability.
When moving the excavator around the job site, select a route that is as flat as possible.
Steer the machine as straight as possible and only make small gradual changes in direction when turning is needed.
Travel directly up slopes vertically instead of diagonally.
When shutting down the unit, be sure it's parked on a level surface with the bucket attachment lowered to the ground.
Turn off the auto-idle switch and run the engine at half throttle without load for a few minutes to help cool the turbocharger down.
Set the RPM to low idle before shutting the engine off with the key switch.
Don't forget to lock up the cab when exiting the equipment.
Excavators can be dangerous if not operated properly. Never stand under the excavator as it might cause injuries or even lose a life.
Do look out for your colleagues to warn them not to stand under an excavator.
DO NOT stay silent when your friend is hurt immediately call and inform your bosses if you find any difficulties in handling it or if any of your fellow colleuges are injured.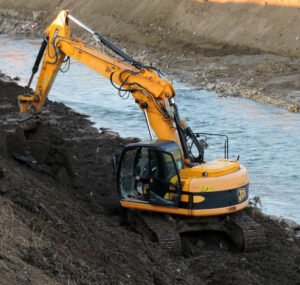 More
If you want to know more you can click here to visit our website or you can click here to chat with us!