A Guide for Using Cotton Work Gloves
Work gloves can be used for a lot of jobs in various industries, for example, work gloves are used in aerospace industry, work gloves are used in agriculture industry, work gloves are used in forestry and fishing industry, work gloves are used in glass industry, work gloves are used in automotive industry, work gloves are used in oil and gas industry, work gloves are used in construction industry, work gloves are used in gardening industry, work gloves are used in electronics and manufacturing industry. Nowadays, more and more expensive materials are available in the market. In many cases, cotton work gloves are ignored. However, this most simple form of hand protection has many amazing benefits.
The benefits of cotton
Cotton feels very comfortable. They will not leave any fingerprints and have great abrasion resistance. What is more important, they are much inexpensive compared to these advanced materials.
How to make cotton gloves? 
With the help of textile mills, raw cotton can be processed into yarn or fabric. Then, we can make cotton work gloves with either option.
Cotton Gloves' performance on heat resistance
Cotton is an insulating material which has great resistance to heat damage. It begins to turn yellow after several hours at 120°C and will noticeably degrade at temperatures around 232°C. Therefore, cotton work glove is an economical choice for tasks that involve low temperature.
Be careful with flame resistance
Cotton burns quickly, so please remember that never use cotton gloves around spark or open flame. However, some chemical techniques can help reduce its flammability. For example, cotton's flame resistance ability can be improved by adding flame retardants.
Can I wash cotton work gloves?
Yes, of course!
Cotton work gloves are very easy to wash. Although cotton will absorb water and swell during the washing process, it will return to the original size when drying. Also, cotton's tenacity will increase when wet, so you don't need to worry about your washing machines would damage your cotton work gloves. You can use machine dryers to dry your cotton work gloves as well.
Wash your cotton work gloves in a smart way
Use warm water
Add detergent
Dry on low heat or no heat
Our Cotton Work Gloves Expertise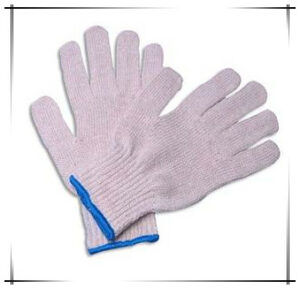 If you need assistance with choosing the suitable cotton work gloves, welcome to contact us!
Rockwell Engineering and Equipment Pte Ltd
Tel: +65-6464 9347
Tel: +65-9673 6302
Address: