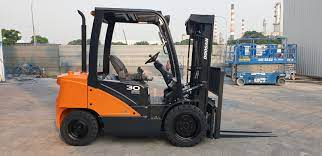 Do you even know what is a forklift and what is the purpose of using it?
Does anyone know what it is and where can you operate it when doing work? Can it be used for construction industries? In my opinion for people who never used one or seen it up close in real life.
I suggest that you go and read it from Big Rentz's website. They provide relevant information about this vehicle for you to learn about it.
They say that it is a combination of hydraulics, pull systems, and other things. Which allows it to move heavy equipment that is used to do heavy lifting jobs. This helps to reduce a lot of manpower when it comes to lifting heavy items in a harsh environment. Boom lifts are used in warehouses as well when it comes to lifting heavy materials.
For, you can use it to carry heavy loads, and can even be used for projects. Which requires you to do lots of work when it comes to lifting, carrying, and transporting items. For their web site, they have given a few more details.
The first is what are the components of certain parts of the forklift.
The second is how does the hydraulic system work when using the forklift.
The third would be how the forklift roller chain even works when it comes to operating the forklift.
The fourth is the controls. This is important for operators to know, when driving it and using it for work purposes.
Lastly would be forklift types and uses. They explain the different areas in which the forklift can be used for certain types of industries. Forklifts can also be used for construction purposes. I hope that this is quite useful for you to learn about it. Here's our website.