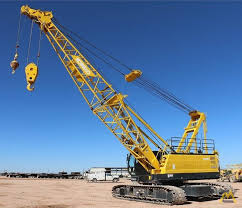 What are crawler cranes? What can it do to help in the Construction Industry?
Crawler Cranes are part of the earth-moving vehicles that construction companies do for construction projects. When it comes to building new houses, offices, or a mall. Other than that examples of earth-moving vehicles, would be bulldozers, compactor rollers, Motor graders, and backhoe loaders.
Even the excavators as well. But do you even know what a crawler crane is? What it can be used for? For more information, I suggest that you go to the Big Rentz website. For the longest time, cranes have been used since the early ages before it was invented for construction. It was recorded in ancient Greek that the first crane was ever used in the 515BC. Some say in their report that cranes were used for water irrigation.
Ancient times that needed to build structures, had to use a crane invention to help them. Over the centuries, industries have finally redeveloped the crane into a modernization replacing the old manually pulling system with parts like an engine. Not only that operators also had to operate these machines for them to do their work. Construction companies also need it and they would find a supplier from countries .
They would either contact them to purchase it or rent one if they can't afford it. Companies who offer Crawler cranes. Might have other various models of crawler cranes, you can decide for yourself to choose from a wide selection from their facility or on their website.
Today, there are different types of construction crawler cranes that you can use. Other than Crawler cranes, there are Carry Deck Crane, Floating Crane, Rough Terrain Crane, and Truck-Mounted Crane. Even others like bridge/overhead cranes, bulk handling crane and hammer head crane.
For more information, here's our website.